Limelight, NYC, NY 1/15/95
There seemed to be a central theme for tonight's gig: communism/Russia. The stage set had a huge Soviet flag as a backdrop, with two smaller one's on the sides. Louie's bass-drum heads were red with the hammer-and-sickle on them. The t-shirts they sold were also red with "CARNIVORE" in cyrillic letters with a picture of a soldier standing over dead bodies, with some Cyrillic inscriptions on the bottom.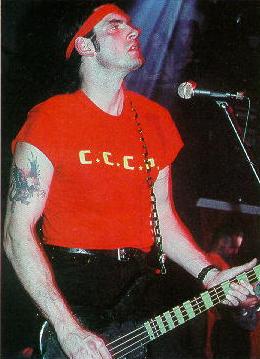 Finally after hearing a half-hour of Russian music during the set-change, Kenny (who always Intro's the Carnivore gigs) came out and announced: "Live, from the Soviet Union....CARNIVORE!!!", and the band came out, all in red C.C.C.P. shirts (U.S.S.R. translated into Russian) After 5 minutes of some long-winded feedback opened up the show and ignited oneof the maddest pits I've ever seen (no exaggeration). No out of place comments by Pete Steele, since they just ripped right through their 75-minute set, but he did fuck up a lot of the words if you paid attention and cared to notice.
Band Line up (for those who don't know, the Retaliation album)
Pete Steele - bass/vocals
Marc Piovanetti - guitar/vocals
Louie Bateaux - drums/vocals
Set list: (somewhat in order)
Suck My Dick
Carnivore
Race War
Inner Conflict
Male Supremacy
U.S.A. for U.S.A.
Predator
Sex And Violence
God Is Dead
Angry Neurotic Catholics
(encore)
Star Spangled Banner (always a highlight of the show, and one they take seriously, since they play it straight and don't fuck it up.)
Jesus Hitler
After Angry Neurotic Catholics, before the band walked off, Marc threw out hundreds of pamphlets, which to go along with the theme of the show, was a brochure entitled "Q&A: What everyone should know about the Communist Party USA" Really hilarious (I got a good laugh out of it) stuff for us capitalists in the USA and around the world who watched socialism fail time and time again.)
Return to the Carnivore homepage