...heard it through the gropevine:
Last modified Sunday the 3rd 1999

DREAMWORKS Records has announced it will release its "Songs of the Witchblade" soundtrack on September 8th. Inspired by the TOP COW comic book and soon-to-be TNT TV series WITCHBLADE, the album is produced by BABES IN TOYLAND's Kat Bjelland and SKINNY PUPPY's Dave "Rave" Ogilvie, and features BABES IN TOYLAND, Ogilvie, MEGADETH, TYPE O NEGATIVE's Peter Steele, FOETUS' Jim Thirwell. Eric Bogosian (Talk Radio) narrates the entire soundtrack, and many of the artists mentioned above appear as characters on the soundtrack; Bjelland is heroine Sara Pezzini, Dave Mustaine of MEGADETH is Lt. Joe Siry and Steele gives voice to assassin Ian Nottingham.

The track that features Peter is written by Marc Piovannetti who also plays guitar. That name doesn't ring a bell? Check here


Nudie News!!!
Rmember that fabulous Agust we had in 1995? The Playgirl? Well, in their latest special issue, they have the majority of the interview, and all the pictures, and once again, he is the centerfold! There are a few pics that weren't in the first issue...so go, run to your nearest "news-stand" and get one for yourselves, it's worth it, i promise you wont be dissapointed! (Thanks to Midnite)


The new album according to K'rrap! (Do you believe it ? ?)
'Type O Negative frontman Peter Steele has revealed to Kerrang! that the Brooklyn 
band's next studio album will be heavier than ever, as a reaction to 1996's 'October Rust', 
which the singer/bassist feels was too commercial.


In an exclusive interview with Kerrang! Steele reveals that the album, their forth, has the 
working title of 'Bleed For Me', and that the band already have most of the songs written. 


"We've got almost a whole CD's worth of new crappy songs," Steele deadpans. "I hate to 
admit it, but I think I made a slight mistake with 'October Rust'. I listened to our record label 
who asked me to write more commercially than before. When I look back now on that album I 
think 'Okey, this sounds alright, but it also sounds like I was trying to write for the radio. Im not 
thinking 'radio' this time. The stuff I've written so far is really slow, really doomy, and not that 
commercial."


Steele expects his not-so-merry band of men to start recording in June or July, the aim being 
to have the whole process wrapped up by the end of the summer, with a release before the 
end of '98. "We'll hand this new album to the label just as soon as it's finished." says Steele, 
"But how quickly they get it out is up to them." 

Dont be too surprised is the record title changes before it hits the streets...
"It could easily change" admits Steele. "If a song title seems to pop out, or if we find some 
sort of concept linking the songs, then we will thing of altering it. I just wanted to mention the 
title to Kerrang! readers before someone steals it! One of the titles I'd originally chosen for 
'October Rust' was 'Down'. Then, would you believe it, The Jesus Lizard go and releasean 
album called 'Down'.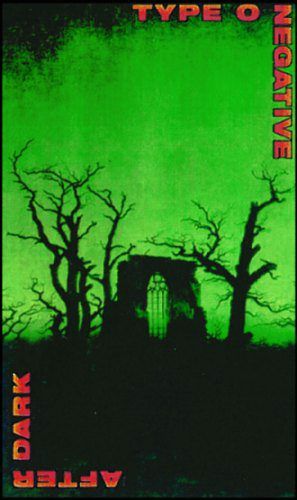 The long wait is almost over . . . the Type O Negative home video will be released world wide on March 23 and is called After Dark...Take a preview (Thanks to Peter Moeller)

The blahblah is over! Yes, there wa a lot of blanter, read for yourself in these excerpts:
Peter is "SonicNetGuest"
snippety 1
snippety 2
snippety 3
Full transcription is available...HERE.

The Type O Negative home video is called "After Dark" and will contain some home vid material and all the videos including "Cinnamon Girl" the worst Type O vid ever! Hell, they used footage from the Sick Of It All show for the crowd shots!

There seems to be a considerable delay on the new album...another millennium problem? At least there's enough time to do some other things like getting married, eh John?!?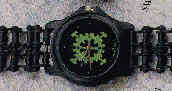 It's Type O Time!! This is not an advertisment just a funny that I found on the net!

John Kelly is filling in for Pist.On's drummer, while Peter is sitting in his toilet writing the new songs...

Rumors go that there will be a CARNIVORE reunion. Doesn't Peter have anything better to do?? :-)

An official home video will be releasead somewhere next spring. The new album is already postponed to summer next year (or will it be 1999???)

And yet another Roadrunner trick to get your money out of your pocket: the "Precious Metal Collection" re-releases of succesfull RR albums on golden CDs. Type O negative is featured by their "Origin of the feces". That will be their 2nd golden recording :-)

Well what is the latest news? Autumn tour in the US? Probably some new songs played there? Recording new album early next year? Guess you already knew that...
---
Will Type O finally make it to South America? It looks likely that they will be at the the Monsters of Rock in Rio on August 30 ... but the band is always the last to know
---
Type O back in Europe for the summerfestivals?? They will be on the Hard Pop Days on 12 July (Bremen, Uniseegelände) and on the With Full Force IV festival (4-6 July, Flugplatz Zwickau/Sachsen). Type O will play there on Sunday together with Agnostic Front, maybe Peter can play bass on some of the songs he wrote for AF...
Type O will also be on the Dour festival (Belgium) on the 13th of July along with the likes of Das Ich, Sisters Of Mercy and Front 242.
---
The new single will be "Cinnamon Girl" and will have some remixes of Love You To Death. The video was supposed to be shot on the Dynamo festval but things didn't work out like they should have (IMHO it sucked). The single's release is set on June 24.
---
There seems to be a shortage on blood...but you can get some!!
---
The Ozz Fest '97 is on it's way
---
Especially for German and Dutch fans:

For the Irish, Scottish and other Brits: Spring is in the air
---
Type O was touring the US...
---
Peter has broken his foot during one of his favorite occupations: weight lifting. Apparently he dropped one of the heavier weights on his right foot (Auwtsch:)
---
Kenny and Bonnie (Kenny's long-time GF) have a daughter! Congrats!. Along with this joyful sound, other changes have taken place i.e. the split between Type O and their manager Ken Kriete.
---
"Love you to death" is the second single taken from OR. It was released in Europe as a CD-single with 2 extra tracks and in the US as radio-only (one track). Also a video was shot but needed some additional editing. Hopefully this will work out better than the MGG-single...
---
To sell-a-brate the new album Type O Negative tour theis asses off. They did some festival shows in Europe and then went on a headline tour in the US and returned to Europe in November and December.
---
Apparently the Type O show in Phoenix was cancelled due to the riots, partially caused by the Deftones who got beaten by Type O afterwards. While Brother Cane was on stage people started bonfires out somewhere at the venue. Then while the Deftones were on, it got more messy, to the point where security was cutting their set short. They refused to leave the stage and instructed the fans to come up on stage, causing a clash with fans and security. This meant the end of the concert and headliner Type O didn't get to play, so Johnny and Kenny and some roadies picked a fight with the Deftones at some local bar.
Read the eye-witness report by Alister
or the article from Phoenix New Times
---
Some older "news":
---
If you got any news or addition to the foregoing...mail to JG
---
Return to the Type O Negative homepage